THE BRIDGE OVER THE RIVER KWAI
(THE DEATH RAILWAY BRIDGE)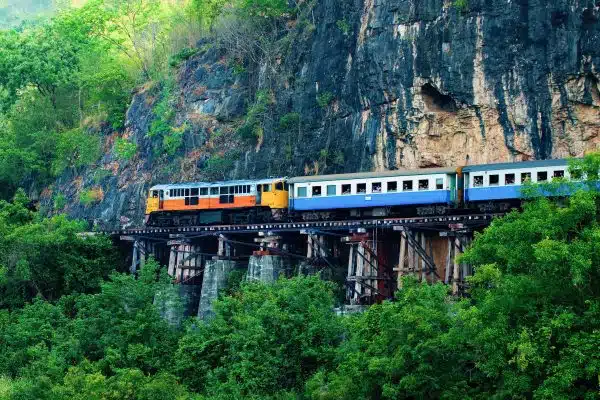 During the World War II, the Japanese wanted to seek to shorten the supply lines between Japan and Burma in preparation for an eventual attack on British India. The Japanese started work on a railway from Thailand to Burma through the river valley for a distance of about 415 kms. The Japanese enforced roughly 250,000 Asian laborers and 61,000 Allied prisoners-of-war (POWs) to construct 260 kms of rail on the Thai side, approaching the Three Pagodas Pass on the border. Unfortunately, it is estimated that 100,000 Asian laborers and 16,000 Allied prisoners lost their lives during that period due to many factors. Today there are daily trains running from Kanchanaburi to the terminus at Nam Tok station for a distance of 50 kms on this historical route. This journey is one of the very exciting things to do for tourists.
Details: Open daily 8.00 a.m. to 6.30 p.m.
How to get there: It is located north of the city by about 4 kms. Special trains are arranged for tourists from Bangkok on Saturday, Sunday and public holidays.